Spinning classes have become ever so popular recently. Luckily, you no longer have to leave the comfort of home to enjoy a world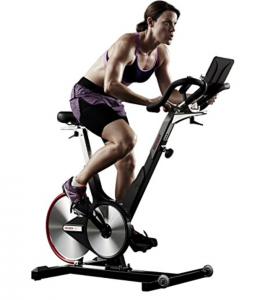 class cycling workout. I did the research to bring you a list of the best spin bikes for home use available on the market. I want you to benefit from the work I put in, so make sure you read this before making a purchase!
I recently did a review on recumbent bikes where I started by describing the difference between recumbent bikes, stationary bikes, and spin bikes. Before we get started with the review of some different spin bikes, I want to summarize quickly the difference between these 3 types of exercise bike to make sure you are actually looking for the product that is right for you.
What Is A Spin Bike To Begin With?
Spin Bike- also known as an indoor cycle trainer. These bikes are designed to mimic the feel of riding a road bike outside. The tend to have a seat that is narrow like a road bike, they have heavier flywheels (the wheel in a bike that spins as you pedal, we will discuss this more in a minute), more adjustable seats and handles. Spin bikes are typically more sturdy than your average stationary bike.
Stationary Bike- these are the standard bikes that have been in gyms forever. They are upright like the spin bikes, but the seats are larger and more comfortable, they tend to have larger consoles. These bikes don't tend to feel as natural as a spin bike, but you can get a good workout on these. Stationary bikes aren't typically designed for the intense workouts that spin bikes can handle.
Recumbent Bike- the recumbent bike sits the rider in a more horizontal position. These bikes have a higher seat back, the pedals extended out in front to reduce strain on the back, hips, and knees. These are the most comfortable bikes to ride, perfect for riders of varying fitness levels. You can get a decent workout on a recumbent bike, but this will not replicate the feel of a real road bike.
What's a Flywheel?
Ever wonder why "spin bikes" are called "spin bikes" to begin with? Well, Mad Dogg Athletics, Inc. actually patented the term with their style of spinner bikes about 25 years ago. But the name stuck to describe any cycle that mimics the feel of a road bike. That's why the group at Mad Dogg created this type of bike to begin with: to mimic the sensation of riding a bike in order to train cyclists.
Back to the question though, these bikes are referred to as "spin" bikes or "spinners" because they have something spinning as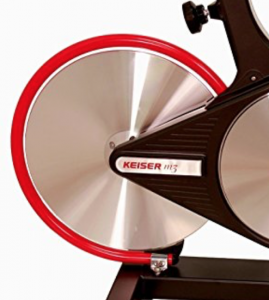 you pedal…you guessed it, the flywheel!
The flywheel is the weighted circle that is connected to the pedals through a belt or chain. The flywheel in a spin bike is weighted (perimeter weighted)- this means it is a little harder to get the pedals moving from a cold start (much like a real road bike). As you get the pedals moving, the weighted flywheel keeps the pedaling motion smooth and natural because the weight of the wheel builds momentum and keeps the wheel moving through your entire range of pedaling.
Because of this momentum that builds up with a weighted flywheel, it takes more energy for the rider to slow down and stop the flywheel. The heavier the flywheel is, the more energy it takes to start it and the smoother your ride will be– a lighter flywheel will keep you adjusting your pedal speed because the pedal will slow down on the top of pedal rotation and speed up at the bottom. The weight of the flywheel in a spin bike keeps the pedals flowing naturally for a more comfortable experience.
Most spin bikes have flywheel weights in the 30 – 50 lb range. Typically, the heavier the flywheel, the more expensive the bike. The heavier flywheels will give you a more natural, smooth ride as well as being a little more gentle on your joints. However, there is some debate as to whether a heavier flywheel actually provides a smoother ride. There are some very high-end bikes that use light flywheels on purpose. We will mention one later in this review.
Price Ranges
In this review, I wanted to offer options in 3 different price ranges because not everyone is looking to spend $2000 on a piece of exercise equipment. The price ranges I chose are: $300 and under, $500 – $1000, and $1000 and up. There are a ton of spin bikes out there, and lucky for us, there are some really nice options for home use. Let's get started and start with the most affordable options.
$300 And Under
#1 Schwinn IC2 Bike

Best Price: Click Here To Check On Amazon!
Dimensions: 45″ x 23″ x 49″
Warranty: 5-year frame; 1-year parts & electronics; 3-month on wear parts
Max Weight Capacity: 250lb
Pros
31 lb flywheel
Multi-position handlebars
Over-sized, padded seat for extra comfort
Bottle/MP3 holder
Frame out of corrosion-resistant steel tubing
Transport wheels make it very portable
Fan
Solid warranty
Cons
Foot pedals not compatible with clip-in shoes
Pretty simple display system (time, distance, RPM, speed, calories)
Weight capacity only 250lb
Schwinn is a power house in the fitness world. This brand has been around since 1895…yea, seriously. You don't last that long without making a quality product. Schwinn is very well known for its bikes and fitness equipment and always scores well with the critics. The IC2 is a great indoor cycle for the price. At $599 it's a good buy, at $279 it's a no brainer… you just aren't gonna find a better product in this price range.
# 2 Sunny Health and Fitness SF-B901
Best Price: Check Now On Amazon!
Dimensions: 48.5″ x 20″ x 46.5″
Warranty: 3-year structural frame; 90-day parts
Max Weight Capacity: 275 lb
Pros
40lb flywheel
Chain driven mechanism
Fully adjustable seat and handlebars
Adjustable resistance
Heavy-duty steel frame
Transport wheels
Leather padded seat
Cons
No display screen
Not compatible with clip-in shoes
Look out competitors, Sunny Health and Fitness is not playing around! The SF-B901 is a durable, reliable piece of equipment that can compete with any spin bike in this price range. Sunny Health and Fitness has only been around for about a decade but they seem to be very competitive, especially with offers like this. This bad boy is built to last…you can tell by the high max weight capacity (275 lb). The heavy flywheel and chain driven system make this ride smooth and quiet. If you don't need a display system, go for it! Can't go wrong for $200.
$500 – $1000
#1 Pro Indoor Cycle Trainer LD577
Best Price: Check Now on Amazon!
Dimensions: 46″ x 21″ x 52″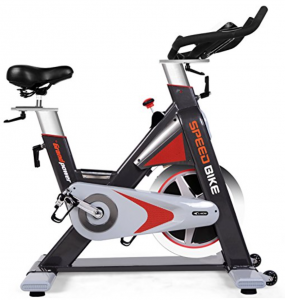 Warranty: ?
Max Weight Capacity: 550 lb
Pros
Heavy duty 50lb flywheel
Fully adjustable seat and handlebar
Large LCD screen
Heavy duty steel frame
Very high max weight capacity
Comfortable seat
Cons
No warranty info
Unable to find any info on manufacturer
Ok, so I will admit I'm a little weary including this bike in my top 2 for this price range because I cannot vouch for the manufacturer and there is no warranty info listed online…that said, this is one of the most well reviewed bikes in this category I could find. Average rating of 4.3/5 on Amazon. This thing is incredibly durable and has a very high weight capacity that will allow riders of all shapes and sizes to ride comfortably. This bike was obviously designed for commercial use. All of the reviews have been positive, but always be careful when purchasing a piece of equipment without warranty info. If interested, I would call Amazon and see what information they could provide.
#2 Spinner S5
Best Price: Check Now On Amazon!
Dimensions: 43″ x 18″ x 27″
Warranty: 1-year parts offered by manufacturer
Max Weight Capacity: 250lb
Pros
31lb flywheel
Wide padded seat for extra comfort
Large commercial sized handlebars
Fully adjustable seat
Integrated fenders for sweat resistance
Steel frame
Narrow Q factor (distance between pedals)
Comes with 4 spinning workout DVDs
Can accommodate rider up to 6'7″ tall
Cons
No display screen
Weak warranty
Low max weight capacity
The Spinner bikes are produced by Mad Dogg Athletics, the company that coined the phrase "spin" or "spinner" bikes. Their bikes are designed with the purpose of giving the rider the authentic feel of riding a road bike. These bikes are designed to be sleek and slender like authentic road bikes. That said, the S5 only has a max weight capacity of 250lb, making this bike unusable to the larger riders. But if you are thin and tall, this bike will accommodate! If you are looking for an authentic cycle class style bike, this is your best bet. Like many spin bikes, the S5 doesn't have a display screen (again, it's an authentic class style bike), but the manufacturer was nice enough to include 4 workout DVDs…pretty cool, not many companies are doing that these days. In conclusion, solid bike for the price, perfect for the beginner and intermediate riders looking for an authentic road bike feel.
$1000 and Up
#1 Keiser M3i
Best Price: Check Now on Amazon!
Dimensions: 45″ x 26″ x 49″
Warranty: 3-year all inclusive; 6-month wearable parts
Max Weight Capacity: 300 lb
Pros
Eddy-current magnetic resistance
8lb flywheel
Rear mounted flywheel- keeps sweat off of moving parts
Fully adjustable seat
Large, multi-position handlebar
Quiet, smooth ride
Low maintenance (due to magnetic resistance)
Light weight, easy to move
V-shape frame, fits riders of all sizes
Bluetooth wireless display
Made in the USA
Maintenance free belt
Sturdy, re-designed pedals
Cons
The Keiser M3i pops up on almost everyone's "Best Of" list when talking about spin bikes. This bad boy is a top-notch, best of the best commercial grade spin bike. Without a doubt one of the finest spin bikes on the market. Period. I mean look at this thing, it's freakin' gorgeous. Seriously though, I want to talk about the magnetic resistance system a little bit though to make sure everyone realizes how cool this is.
The flywheel never touches anything to add resistance. The flywheel is basically spinning between 2 magnets. The closer the flywheel comes to the magnets, the more current that is produced. The current doesn't have anywhere to go, so it provides resistance. This system gives you a very fluid, quiet, smooth ride but also significantly decreases the chance of mechanical breakdown.
Bluetooth display can connect with smart phones or tablets for keeping up with stats. This bike has all the bells and whistles, but as you can see it comes with a price…a pretty steep price. If it's in your price range and you want the best out there, here ya go.
Otherwise, this model would be more appropriate for very serious cyclists. FYI here is a nice checklist to consider when purchasing a bike (it is provided by Keiser and they are obviously trying to get you to buy one of their bikes, but still good stuff to consider). See full review.
#2 Schwinn AC Performance Plus
Best Price: Check Now On Amazon!
Dimensions: 43″ x 20″ x 48″
Warranty: 10-year frame; 2-year mechanical; 6-month wear; 1-year labor
Max Weight Capacity: 300lb
Pros
Magnetic resistance
Rust-free aluminum frame (and lighter!)
Fully adjustable seat
37lb flywheel
Double link pedals- compatible with clip-in shoes or sneakers
Great warranty
Authentic feel of a road bike
Very sturdy
Cons
Price
Chain driven (some complaints that it's too noisy)
No display screen
Another quality product from a company known for producing awesome bikes. I love the warranties Schwinn provides on their products, really shows that they are confident in their product and willing to back it up. This bike is known for its durability and for providing the "authentic feel" of riding outdoors. The "AC" actually stands for "authentic cycling". Like the Keiser above, the AC performance bike provides magnetic resistance to provide smooth, low maintenance cycling.
The biggest complaints on this model have been the chain driven mechanism and fact that it does not have a display screen. Not having a display screen is common for spin bikes, but you can purchase one separately. Schwinn provides a "carbon blue belt drive" option as well to solve the chain issue- supposedly provides a quieter, smoother ride– but is also about $300 more expensive.  Great bike if you are willing to pay for it, should last forever.
A Few Last Words On Spin Bikes
I must say, I enjoyed doing the research for this post and I learned a lot about the different options available. I chose 6 bikes because I wanted to showcase the differences between 3 main price ranges.
Like pretty much any fitness product, the more features that are available, the more it is going to cost. With regards to spin bikes, the main features that tend to increase cost include: flywheel weight, type of resistance, frame construction, display screen, seat options.
It's important to find a bike that you can be confident that it will be durable enough to last. Look at the max weight capacity, that's a good indicator of how sturdy and durable the bike is. Personally, I'd be a little hesitant to purchase anything with a max user weight less than 275lb, but if you are of a smaller build and will be the only rider, you should be fine with a lower capacity.
I've also learned that the middle price range bikes that I reviewed don't really provide that much more than the lower price range bikes. Take a second look… no significant improvement in warranty, flywheel weight, or features. Besides the incredible max weight limit on the LD577, I'm not sure I see enough difference to justify the extra cash.
There's an obvious difference between the high end bikes and the cheaper ones however… significantly nicer resistance systems, nicer frames, nicer display screens (sometimes), more impressive warranties. Consider your needs and what you are looking for in a bike, and see which price range is a good fit.
Final Thoughts
Keiser! Keiser! Keiser! Ahhh, I want the M3i…it's so cool…and sexy. But do I NEED the M3i…no, I don't. Does anyone NEED a Mercedes…not sure, probably not. Point is, if you have the money and want the best of the best, go for the Keiser M3i. Personally, I'm not a serious rider and as much as I might want one, I don't think the M3i is the bike for me right now (maybe one day…ahhh).
I like the Sunny Health & Fitness SF-B901
. The price on this bike is ridiculous! I mean seriously, what $200 bike comes with a 40lb flywheel and a 3-year warranty? I haven't told my wife yet, but I want one for my birthday…it's coming up in a few months. The way I see it, worse case for 200 bucks if I only get 3 years out of it, no big loss. From user reviews, I have a feeling this bike will still be going strong after 3 years.
I hope you enjoyed reading this review as much as I enjoyed writing it. Spin bikes are cool, fun, and a great workout. These bikes would be a great addition to any home gym.
Find one that works for you and start riding!
If you have any questions, concerns, comments, please hit me up and I'll get back to you soon.